Can't Pay? We'll Take It Away!
We're the media face of High Court Enforcement
The popular Channel 5 and Netflix series follows DCBL's High Court Enforcement Agents as they conduct their daily roles of repossessing houses and collecting debts.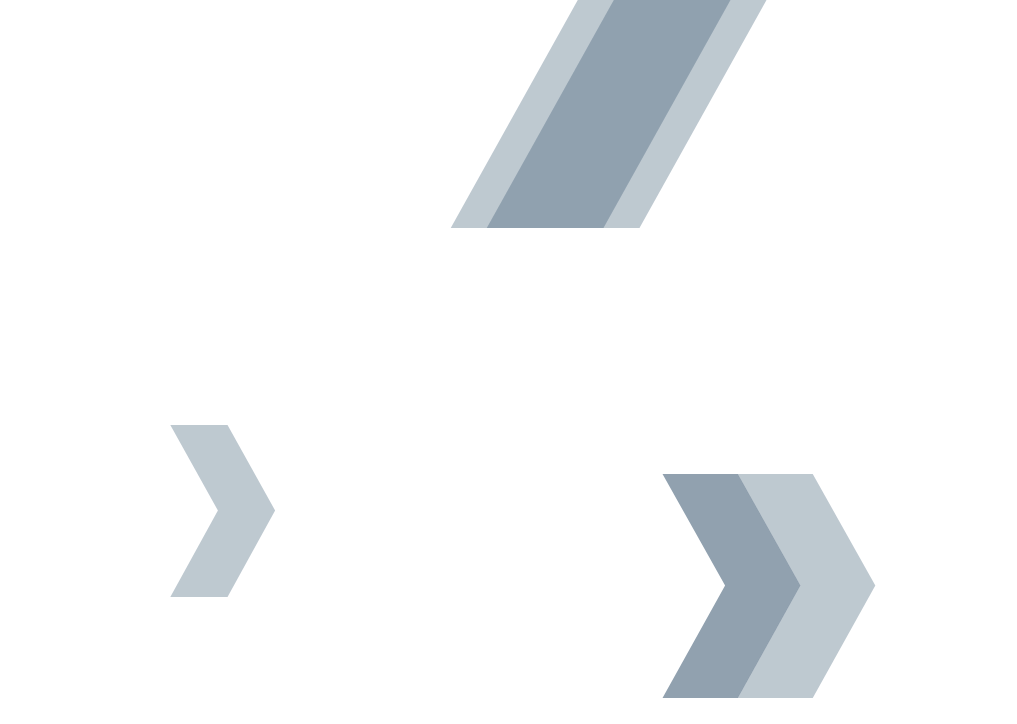 Here at DCBL, we're very proud of the programme and believe that it has changed the face of High Court Enforcement for the better.
"Can't Pay? We'll Take It Away!" is produced by Brinkworth Films and has been entered for multiple awards including BAFTA, the National Television Awards, and was shortlisted for a Grierson. To date, there have been five series, with over 85 episodes.
We feel the programme has humanised the Enforcement Industry and highlights DCBL's empathetic, fair, yet tenacious work ethos.
Presenting the day-to-day operations of our High Court Enforcement Agents provides a clear and authentic insight into the industry, and this has created an unrivalled and unique brand awareness that is instantly recognised by many. Not only are our agents remembered for their roles within the show, but DCBL as a whole is now known
worldwide as the face of High Court Enforcement within the UK for its ethical and professional approach to debt recovery and enforcement. This has led to the increased success of our collection rates which make us the industry leaders.
Producer- Malcolm Brinkworth
Malcolm is a highly respected Executive Producer with many prestigious series for British and international broadcasters to his credit. With over 30 years of experience in the industry, Malcolm spent many years as an award-winning documentary filmmaker, producing and directing acclaimed programmes for premier primetime slots. He's a member of BAFTA and is also active on a number of Pact committees.
Producer- Charlie Clay
With a wealth of experience in the industry, Charlie has been involved in many successful factual programmes, including Channel 4's The Catch and BBC's Jimmys Farm as well as most recently being involved in "Can't Pay? We'll Take It Away!" on Channel 5.
Editor – Susan Crook
Susan has created and produced a wide range of acclaimed factual programmes. These include the BBC's multi-platform current affairs debate show, Free Speech, RTS Award-nominated documentaries for Channel 4, and "Can't Pay? We'll Take It Away!" for Channel 5. The series was one of Channel 5's highest rating programmes for 2014/15/16. Susan has also series produced many long-running factual formats, including BBC2's The Restaurant.
Paul Bohill
Paul Bohill
Paul Bohill has been able to build up a vast amount of knowledge and experience within the enforcement sector from a career spanning over 50 years. He first started his career in the West Midlands Police where he tried his hand at a number of different departments before becoming a fast response driver and co-founding member of the police underwater search unit. After further stints in law enforcement, Paul moved into the High Court industry in the early '90s where he has served since, obtaining over 25 years experience.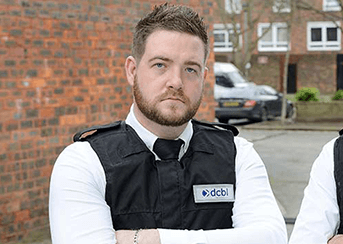 Stewart McCracken
Stewart McCracken
Stewart has been working within the debt recovery and enforcement sector for almost a decade. He is a true homegrown talent of ours, starting his career with DCBL as an administrator where he quickly gained a working knowledge of the business that enabled him to progress to our office-based collections team. Stewart then further advanced his career, becoming a certificated High Court Enforcement Agent, where he has been able to establish himself within the industry.
Steve Pinner
Steve Pinner
Prior to working as an HCEA, Steve worked within the security industry securing major contracts in and around the busy London bar and club scene as well as providing personal security and consultancy within Europe. He has since achieved vast amounts of experience within the High Court Enforcement sector and continues to show compassion and professionalism in his approach to enforcement.
Elmor Victor
Elmor Victor
With a background in sales and collections, Vic joined DCBL on our in-house training program in January 2015. After 3 months, he successfully completed his Charted Institute of Credit Management level 2 exam and received his High Court Enforcement Agent Certificate. With over 2 years of experience in the field, Vic is constantly developing and has shown he has the makings of a successful agent.
Gary Brown
Gary Brown
Prior to working with DCBL Gary spent 15 years serving in the British Army and he collected seven medals across his distinguished service and career. During his time in the army, Gary held a variety of positions honing his skills and experience, including a military patrol dog handler and a role as a Regimental Police Officer. In addition to his long career within the Armed Forces Gary represented his regiment and the British Army as their lead drummer, performing at many formal functions and also a live TV appearance, opening for professional boxer Carl Froch, available to watch here. Upon leaving the Army Gary went on to gain a vast amount of experience working as an officer within the security industry, utilising his skills and experience at many high profile venues and events before diversifying his career and becoming a High Court Enforcement Agent.
Max Carracher
Max Carracher
After obtaining a degree in Business and Marketing Management at university, Max opted for a change in career and followed the path of enforcement. Max began by serving in Her Majesty's prison service working within maximum-security juvenile prisons as an Officer initially and later on managing and training fellow Officers. After two years within this role, Max decided to advance his career by becoming a High Court Enforcement Agent, with five years of experience to date within the industry, in addition to which Max mentors new and upcoming agents throughout their training programs.
Cona Jackson
Cona Jackson
Cona is DCBL's youngest and also tallest High Court Enforcement Agent at 22 years old and standing at an impressive 6ft 8inches. Cona is currently enjoying his first year as a fully-fledged and Certificated HCEA after completing his Enforcement Agent training programme and taking control of goods qualification with flying colours. Cona is currently building on his training putting his skills and knowledge into action and further developing his occupational experience along with his partnering Agents in the field.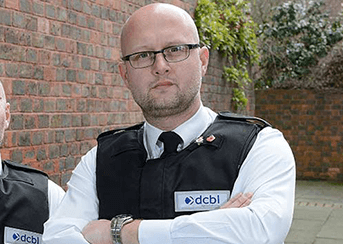 Garry Ball
Garry Ball
Garry has been working as a High Court Enforcement Agent for almost 3 years; prior to this, he spent 20 years working as a Royal Military Policeman Serving in Afghanistan, Bosnia, Kosovo, Northern Ireland, Cyprus, Germany and Kenya. He has been able to successfully transfer all his skills learnt from a long army career into his enforcement work, establishing himself within the High Court industry.
Iain Taylor – Trainee
Iain Taylor – Trainee
Iain has been working for DCBL for two and a half years as a porter from a previous career within the home improvement industry. Ian had made several appearances on the show and is currently in training studying for his Taking Control of Goods exam. Iain is currently working with and shadowing all of the DCBL Agents and being mentored to gain the valuable occupational experience and skills required to achieve his goal of becoming a High Court Enforcement Agent.
Aron Graves
Aron Graves
Before commencing his work as a High Court Enforcement Agent, Aron began his professional career by joining the British Army at 16. During his time with the Armed Forces Aron received rigorous weapons and combat training and also received intense training specialising in public order and riots. After six years of service, Aron chose to follow a career in the enforcement sector, where he has managed to achieve extensive professional experience and success in a variety of difficult situations in his six-year enforcement career to date.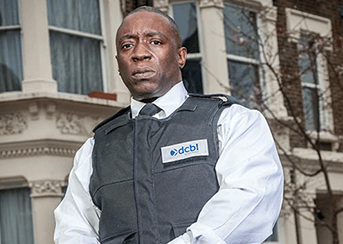 Delroy Anglin
Delroy Anglin
Delroy has been a certificated High Court Enforcement Officer for 6 years; prior to this, he spent 22 years working for the Metropolitan police force (which may give you a clue as to where his detective skills came from).